Indoor plant is an unexpansive décor stuff that can add life to the office place, also it can help improving your mental health as a Japanese study said. It's a powerful way to decrease stress and anxiety.
The study showed, that people who kept plan at their office for four weeks, had lower level of stress and anxiety.
Also researchers orders 63 participants, who tend to work full time at the office, to take 3 minutes break when they feel tired and took care of their desk plant, for most they've japanees kokedamas and succulents.
During the four weeks, they followed the participant pulse, (a good indicator of your body's stress response) , they've followed it before looking at the plants and after looking, and they filled survey describing their anxiety level and psychological state, and it showed that 27% of the participants experienced a major decrease in their pulse rate after taking care of their plant period, also anxiety level decrease too.
The thing that makes a desk planet helpful, when looking at plants it's a healthy distraction from office tasks, as reported by study authors. Also, another research suggests that nature can be a cure to over-stimulation or "attention fatigue,".
Besides looking at green plants, researches figured that when developing a connection with the planet, and that add emotional involvement that helps with the benefits.
In additional to that dead plants don't have that much effect on participants stress level.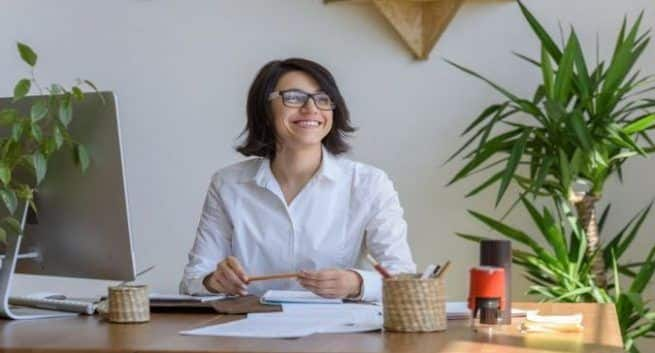 The plants that have been used for the study were pretty small, a few inches tall and wide, and you can find them for less than 3$.
While this study is not as big as others, but in general we all know that spending time with nature is pretty good for you, your body, your mind even your mood, it helps with your creativity and productivity, it has a positive effect on you.
Also, a 2014 study showed that having a plant at the office improves the work and increase the productivity by 15%, and another 2012 study showed that getting outside and walking in the nature can help with the depression.
If you got a strict boss and he doesn't allow you to have a plant on your office, there's other stuffs to do instead of having a plant. On your break go on a walk at a park or a nature place, it also has a good benefit like decreasing stress, giving you positive energy and improving your performance at work.
Here are 5 plants that help reduce stress at the office:
1. Aloe vera
They're pretty good with cleaning the air, they need very little water and care.
2. English ivy
When having a musty environment at the office, this plant is the best choice, but note that its harmful when touching or eating.
3. Snake plant
This plant makes the air healthier, NASA putted it in a room full of gases after a day tests showed that Benzene levels were reduced by 53 percent.
4. Philodendron
This plant adds mood in addition to cleaning the air.
5. Peace lily
It's pretty plant with a beautiful white flowers, it clears the air from toxic gases.